Thanks in advance for trying out the new MyCanvas!  Your feedback on the service, integration with Ancestry and the reporting of glitches/issues have been tremendously valuable.
While we hope you'll find the new site to be an easy-to-use service that meets some of your needs, remember that we are just getting started.  We have heard your feedback about features you miss most.  In the coming weeks, we hope to release frequent product updates to bring back old features, build out new functionality and iron out all the kinks.
We aim to keep our product development process transparent and informative.  We are therefore thrilled to announce that our Product Roadmap is now open for everyone to see and participate in.  You can sign up to get updates on feature releases and send us feedback on what you would like to see added on the list.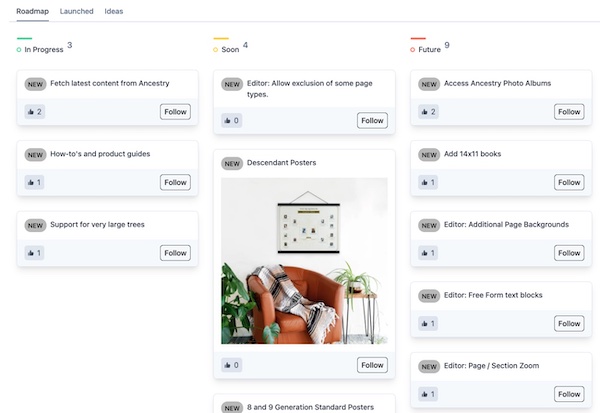 We are a small team and so while it may seem that things are taking longer than expected, we are listening to all your feedback and ideas and are actively prioritizing them.
Thank you again for supporting us during this transition.
PS: Please remember to continue to reach out to Customer Service instead if your feedback is about the Classic website, an order or project in progress.